Frequently Asked Questions
Q: How many jars should I order?
The average order for new customers is 3 jars and that's what we recommend to start. However, many of our customers take advantage of the 6 jar package, which offers our best discount.
Q: What's in Omega Stem™?
Each serving of contains a unique combination of five powerhouse ingredients: L-carnosine, Leucine, Green Tea Extract, Blueberry Extract, and Vitamin D3.
Omega Stem™'s powder mixture is vegetarian, free of lactose, gluten, additives, and preservatives. It is packaged in a BPA-free container resistant to heat, air, and light.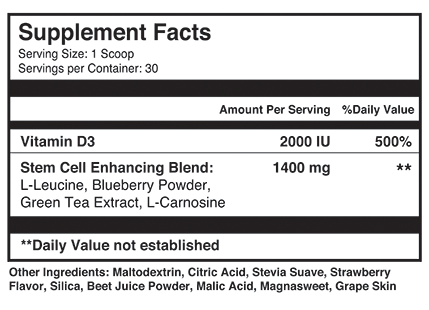 Q: How do I use Omega Stem™?
Omega Stem™ is simple and convenient to use. Just mix one scoop of Omega Stem™ in a 16-ounce glass of water, and drink first thing in the morning, ideally on an empty stomach.
The ingredients in Omega Stem™ are fully bioavailable, and once absorbed in your stomach, they'll go straight to work.
Omega Stem™ does not have to be refrigerated. However, if you decide to keep it in the refrigerator, it won't impact its effectiveness.
Q: How is Omega Stem™ different from other anti-aging supplements?
Other types of supplements contain nutrients which may help with immune function or cardiovascular support, but Omega Stem™ is designed support the healthy proliferation of adult stem cells. These are the "master cells" of your body that repair damage to your muscles, skin, organs and brain. Specifically, the ingredients in Omega Stem™ have been shown to support proliferation of human CD34+ and CD133+ cells, which are essential to your body's cellular function.†
Q: Can I take it with my other medications?
The ingredients in Omega Stem™ are all naturally occurring, found both in both food products as well as your own body. Omega Stem™ is tested by an independent laboratory for purity and potency.
As always, consult with your physician before beginning any new supplements.
Q: Do you have a guarantee?
Absolutely. We provide the same industry-leading 90-day Ironclad money-back guarantee on every Princeton Nutrients™ product. If you're not satisfied – for any reason – you will receive a full refund of the purchase price (less shipping and handling).