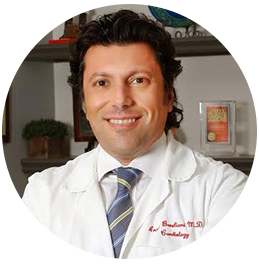 Meet Doctor Bereliani
Dr. Bereliani is a board certified doctor for cardiovascular diseases and internal medicine. He graduated summa cum laude from Finch University of Health Sciences in Chicago and completed his cardiology training at the UCLA School of Medicine.
Early in 2006 Dr. Bereliani became the director of what is now the Beverly Hills Institute for Cardiology and Preventative Medicine.
He is a leader in the field of integrative medicine and is involved in the research and development of supplements to support cardiac health.
In 2015, Dr. Bereliani joined Princeton Nutrients™ with the goal of bringing the highest quality supplements to the greatest number of people.
Dr. Bereliani is currently the Assistant Clinical Professor in Medicine and Cardiology at UCLA and attends patients at both UCLA Medical Center and Cedar-Sinai Hospital. He is also a local and national speaker for several medical societies such as the American Heart Association and American Medical Association.
His passion for cardiology and for his patients is what drives Dr. Bereliani. He is constantly inspired by his patients and his fellow doctors to work harder on their behalf.